You can have an unlimited number of administrators.
Three basic steps to setup an administrator:
Set some user with the level "administrator"
Create or edit an administrator profile, with assignment of the respective permissions to each profile
Assign to the user the desired aministrator profile
Associate the users and course to be managed by each administrator
Create an administrator
Any existing user can be configured as an administrator by setting this level in his personal user profile, from the global user management area.
Administrator Profile
From this page you can create and manage Administrator Profiles
A Profile is a settings template that can be assigned to multiple users. Changes to a profile will affect all the users assigned to that profile
Special Setttings
Click on the "Special Settings" icon to set some global configurations for this admin profile: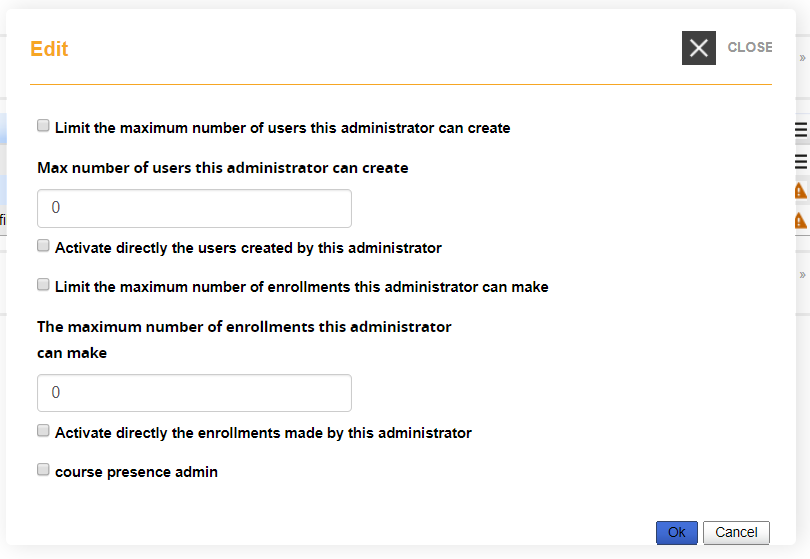 Edit Settings
From this page you will be able to define the permissions on most of the backed features for the administrators assigned to this profile:
Language Settings
Give this user edit permissions on some specific languages in the language management area
Manage Subscriptions
See a list of the users assigned to this profile
Administrator Management

Assign Profile
Click to assign a profile to this administrator
Assign Users
Select wich users this administrator will be able to view and managed, based on his profile settings. It's possible to assign:
A list of single selected users
One or more org-chart nodes
All the users with some selected company role
Users by group
Assign Courses
Select wich courses this administrator will be able to view and managed, based on his profile settings.
There are three assignement options:
All courses
Some selected courses
All the courses in a selected catalog
Assign Locations
Select if yhis administrator can manage some location configurations