Here you can see all the configuration settings available for a course. This same configuration page is used for both creating a new course and editing an existing one.
Most of them are self-explaining, we will provide descriptions and details where needed:
Main course informations
Selected Category: shows the selected category for the course. Can be changed upon course edit.
Code: enter an alphanumeric code that will help you identify different versions or releases of ourses with similiar titles, or to integrate course features with other applications.
Course Type: Select the course type:
Elearning: standard elearning course
Classroom: course with editions and classroom management
Elearning with editions: course with edition management
Course Status: Select the status for this course:
Under Construction: the course is only accessible to the users responsible for preparing its content (normally teachers, tutors, mentors and/or administrators);
Confirmed/ Available: the course is accessible to the users;
Concluded: the course is finished and only those users who have concluded it have access;
Cancelled: the course is no longer accessible, and registration from the course catalogue is no longer possible.
Directly play the first object: when clicking on the course "enter" button, the first LO will be automatically opened
Course Box Description: enter the text to be displayed in the "my Courses" boxes
Description: full description that can be shown in the "course info" module, or inserted in certificate templates with a tag.
Details

Assign the menu: chose the menu template to be used in this course
Course Language: Define the lanuage used for course materials. This option will be useful to filter or select courses by language in catalogs, erollment policies, administrator assignments
Difficulty: label to describe course difficulty level
Credits: credits assigned by this course, to be shown in reports and calculated through the "time period" option
Labels: assign a label to group courses with the "labele" feature
Course Subscription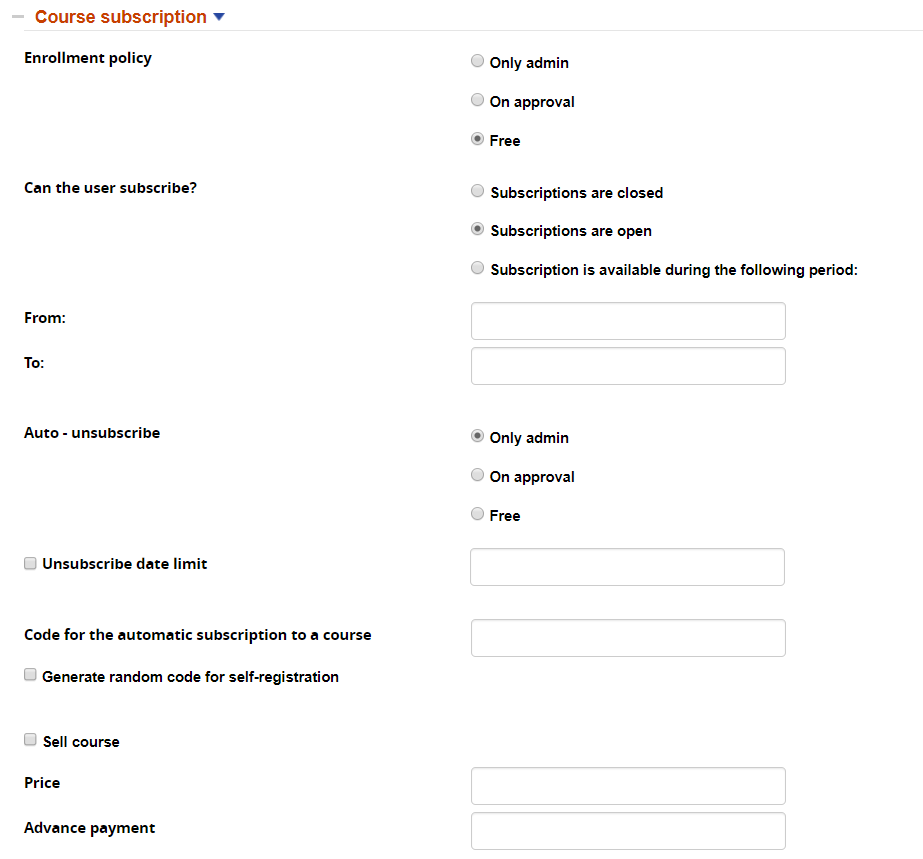 Code for automatic subscription: lets users self register to this course entering this code upon registration or throug the code field in the userpanel
Sell course: enable this course for ecommerce features
Display mode options
The following options will let you define some aspects related to cours visualization and layout elemnents:
Time options
In this section you can configure options related to course scheduling and duration

Days of validity: course will be available to user only for the number of days defined in this fields
Average time for course: estimated time for course fruition. It doesn't affect the users stats, but can be used in course info and in reports.
Special Options
Max number of subscriptions: once the limit is reached, course subscriptions by users will be blocked
Allow overbooking: once the max-subscription limit is reached users will still be able to enroll to the course and put in a waiting list
Documents Upload